"Hot knife" foam cutter HWS250!
We offer one of the most mobile and professional methods for cutting polystyrene (EPS/XPS) materials!
#Hot knife cutter HWS250!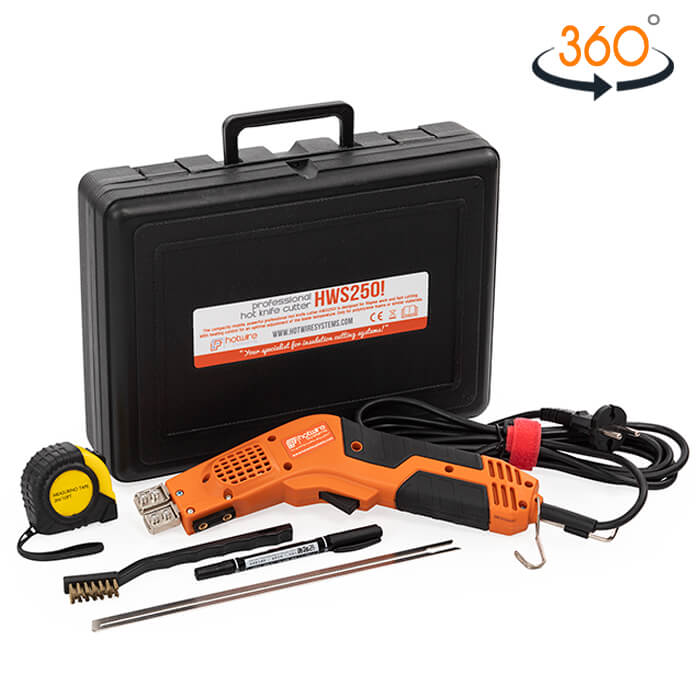 A first-class cutter for every occasion!
The HWS250 foam cutter, also called the "hot knife", is designed for cutting various polystyrene-based materials, such as non-pressed expanded polystyrene (EPS) and extruded polystyrene (XPS), or similar materials.
The main feature of the HWS250 cutter is its huge variety of optional accessories and blades, which, in combination with its power max. 320W, mobility, light weight (ca. 550g net |1.102 lbs net) and flexibility, makes the hot knife cutter HWS250! an essential tool for handling polystyrene or similar materials.
Available voltage:  230-volt / 50Hz  |  110-volt / 60Hz 
The HWS250 styrofoam cutter has proved itself to be an indispensable tool on the construction site, in the design studio, with model making masters, and for a range of hobbies and pastimes.
The HWS250! cutter are sold in Europe and in many countries throughout the World!
… average delivery time!
We offer two options – Express delivery and Regular post delivery.
#WHAT OUR CUSTOMERS ARE SAYING